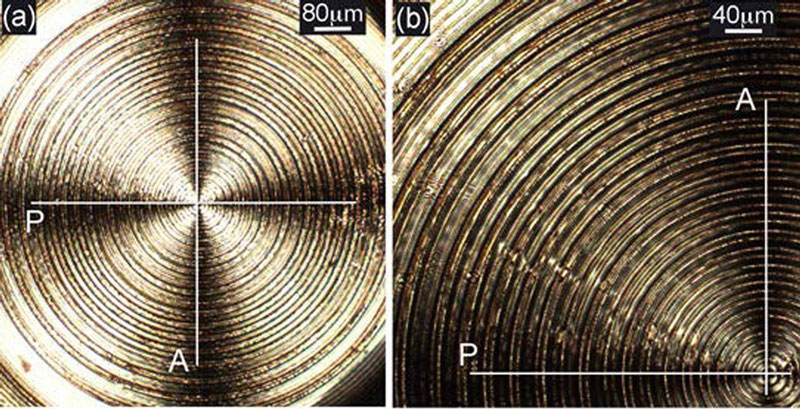 Applications of soft matter cover a wide scenario of possibilities. Our group is involved in this kind of research with several lines. Self-organization of birefringent materials in polymer matrices enables switchable behaviors resulting in well consolidated applications as tunable photonics. The main advantage of this approach is that a given functionality can be controlled at will, like turning a knob. The outstanding properties of birefringent materials can be also efficiently exploited in presence of gain media. In such case, it is possible to realize organic lasing systems with different geometries ranging from standard cholesteric liquid crystals doped with dyes and confined by glass substrates to more exotic configurations like same materials self-organized in capillaries or even liquid droplets dye-doped nematics, in which case the lasing is emerging from random paths of light in the material.
Finally, biocompatible soft matter is very promising for its natural involvement in biologic or biomedical fields. Many examples are already available like silk for optical applications and many others are still to come.
Tunable photonics
The use of nonstandard photocuring techniques can produce noticeably improved results: POLICRYPS optimally verifies this condition. Originally being invented as a tunable diffractive structure, POLICRYPS has rapidly attracted much attention for its excellent morphology and related peculiar features. Low light scattering, low switching voltages and short switching times qualify POLICRYPS as a suitable platform for the realization of several applications. Depending on the used geometry, these particular structures can be exploited as switchable diffraction gratings, tuneable beam splitters, switchable optical phase modulators, tuneable Bragg filters, soft matter templates for aligning different kinds of LCs, arrays of tuneable microlaser, or can enable realizing "active plasmonics" devices.
Active soft-matter composites
The study of laser emission properties in ordered and periodic systems has known an extraordinary revival in the last years; even because of the remarkable development of experimental techniques which allow the design of photonic crystal structures whose dimensions fall in the nanoscale range. Surprisingly, active random media repeatedly demonstrated to be suitable candidates for obtaining diffusive laser action, mainly based on the resonant feedback mechanisms in multiple scattering, thus eliminating the need for an external cavity, like in the case of regular lasers. Light localization and interference effects which survive the multiple scattering events have been invoked to explain the random lasing observed in many exotic and complex systems. The study of laser action extends from periodic highly ordered materials (i.e., photonic crystals) to completely disordered systems such as powders, suspensions of microspheres, or strongly scattering materials
Biocompatible soft-matter
The use of biomaterials as optical components has recently attracted attention because of their ease of functionalization and fabrication, along with their potential use when integrated with biological materials. Biological or biomedical applications of these materials is very appealing because eventual lab-on-chip devices can be easily probed and operated by optical means, resulting in easy-to-use theranostic devices. At the nanoscale, biocompatible soft matter can be involved as nanocarriers that can operate important tasks, hardly achievable otherwise, like drug delivery, bioremediation and chemical sensing. Bombyx mori silkworm silk is an extraordinary material, composed of large proteins: fibroin and sericin. Regenerated silk fibroin is of fundamental and technical interest, because it exhibits an outstanding combination of mechanical properties with optical transparency, a high refractive index, and processability in different forms and formats, with very high spatial resolution.